This year's Morton Schapiro Distinguished Secondary School Teacher Awardees have transformed students' lives in ways still unfolding, yet already evident and profound.
Given annually to five teachers based on nominations submitted by graduating Northwestern seniors, the Northwestern Schapiro Award honors excellent high school teachers from around the world for their professional and personal commitment to students. The awards carry a stipend of $5,000 for each teacher and $5,000 for each of their high schools.
The 2023 Schapiro Award recipients are Deepshikha Ahlawat, Colette Beausoliel, Joseph Graciosa, Jason Stanford and Michael Van Krey. They will be honored during Northwestern's 165th Commencement Ceremony on Monday, June 12 with the award named for Morton Schapiro, the 16th president of Northwestern.
Jason Stanford
Niles West High School, Skokie, Illinois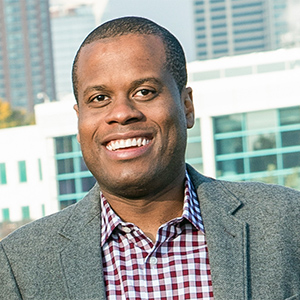 Petryk described Stanford as someone who goes above and beyond to provide his students with the resources they need to succeed, including a fund he created to help students procure professional clothing.
"Confidence comes from preparation," Petryk recalled Stanford telling the Niles West team. "Though I used to roll my eyes at the truism, I've come to appreciate the lengths to which Stanford (as the team affectionately called him) went to give his students the opportunities to build their confidence."
By coaching his students to arrive on time to practices and competitions with their parts memorized and objection responses practiced, Stanford instills a sense of discipline and dedication that serves his students well beyond the classroom.
He is not only an advocate for his students, but also a champion of fairness and equality. Petryk remembered Stanford standing up for team members who were subjected to sexist or racist comments from judges. Furthermore, under his guidance, the Niles West team went from never having won a tournament to consistently taking first place at competitions and placing in the top 10 at international tournaments.
Stanford also worked to make mock trial more accessible for students outside of Niles West, partnering with local attorneys and judges to establish the Skokie Invitational, one of the largest mock trial invitationals in the state, and also expanded Empire Mock Trial to Chicago.
"The most important thing that I learned about the craft of teaching is creating a collaborative learning environment is the key to ensure academic success for all students," Stanford said.
Petryk said she puts "his lessons to use frequently," adding, "As I leave Northwestern for new experiences, it is Stanford's kindness, selflessness and dedication that I hope to embody."